WOW. What a neat new way to teach kids (and Adults) about the Bible!
This Dvd series from VeggieTales® creator Phil Vischer, uses all sorts of fun things like puppets, skits, songs, graphics and videos to reach people with an understanding of what the Bible is, and what it tells us.
My opinion is that this is a wonderful Bible teaching resource.
I am amazed by how much I really remember after watching this first DVD with my kids. Before I watched these, I had an understanding of many things about the Bible, things like how many books there are and who wrote them, why they wrote them…but it was never so clear in my mind before!
In the Dvd we got to review: DVD 1: In the Beginning (Genesis), there are two main parts:
"Part 1: "What is the Bible?" How is it put together? Kids learn alongside Buck Denver, Sunday School Lady, Brother Louie and the crew that the Bible tells the story of God and what He's done for us.
Part 2: "Who wrote the Bible?" Next, Buck and friends learn how God inspired people to write the Bible. They also learn how the first part of Genesis sets the stage for the rest of the Bible – and all of history!"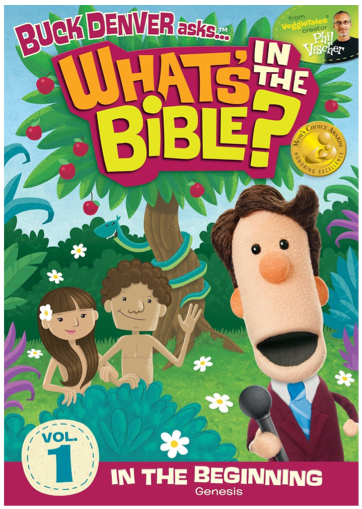 These two videos taught so many Bible facts, explaining things like:
How many books are in the Bible
Where did the Bible come from
What is the Septuagint
What is the Apocrypha
How many sections are in the Old Testament
Who is Jerome
I think just from the above you can get an idea of the fact that a lot of the content is really an in-depth study. Yet somehow, they make this seem fun and keep a kids attention. I noticed my kids could only watch one at a time. That makes sense though. That is 30 minutes of learning.
The Dvd is a mixture of silly and serious. I will not forget either! Some of the little jokes embedded for the adults were hilarious, yet nothing seemed incorrect to me. My husband went to Wheaton, and has a good amount of biblical knowledge and he was impressed with the content as well.
My two favorite things from the video were the Sunday School lady (puppet) and the graphic art representing sin. What a neat visual for kids.
And, though this is a new series, there are already all kinds of kids activities online, like coloring pages, Bible Flashcards, a study guide to use with the Dvds, more clips, and I bet there will be more to come.
COUPON ALERT!
http://whatsinthebible.extole.com/a/clk/3qLLrF If you use this (my) link, you can save 20%. Also, you can go sign up and then you can share a link and earn credits for more Dvds.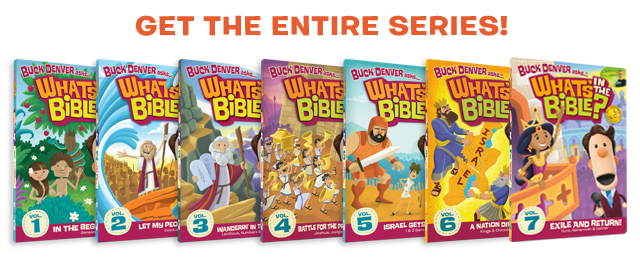 "I was selected for participation in this review and given the What's in the bible DVD as a member of The Homeschool Lounge Review Team All thoughts and opinions are my own." I also signed up for a reader referral thing where I can earn more Dvds, you can too!