Lately, I have been challenged by lots of game reviews! Honestly, while I think my subconscious ability to strategize is pretty good, in game play…well, I often stink.
I really am not a player. That is why I married my husband (he's the fun one) and also why I enjoy being with my children, they do help me play. (I would be fine, just poring over historical documents, I do find that fun.)
Anyway, as a "NOT" puzzle lover, I had to make myself check this one out. (I knew some of my kids would like it). I didn't expect to. What I noticed about this 3D word puzzle mix of rubik's cube and like, scrabble, is that I love to play it by myself. Just mess around with making a word or two. It is cute.
The kids like it and I haven't even had our resident puzzler lover –my son who at age three would do puzzles upside down on a glass table, then climb under to see his finished product!--try it as he is out of the country. I think if you know someone who likes puzzles and word games, this is a fantastic little item.
And, if you want to leave it around on the coffee table, etc, people will pick it up and get a bit of logic practice! You can even get sneaky and use it for official learning–they give lesson plans on their website: http://www.scrublecube.com/education.html
Now, you are supposed to play it as a real game and the cube comes with, score sheets, and sand timer, etc. So, once you feel adept, go for earning points with your words and play to win.
Appropriate for about 8+, this retails at $24.95, and you can find it at Barnes & Noble and Toy's R'Us. Note: I also saw it cheaper a few places online.
Here is Em's take on it:
They have been all over the news for a holiday gift idea and have won several awards, including: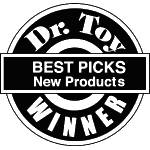 Go take a look for yourself at: http://www.scrublecube.com/
You can also find them on facebook: http://www.facebook.com/SCRUBLECUBE
See what my crewmates have to say about Scruble Cube

I received a Scruble Cube through the TOS Crew for review purposes. I have given my honest opinion.