I have a couple of items for the CleanOut. These are mainly for the older set:) My five year old is hiding everything else! Thanks, Jolanthe, for doing this!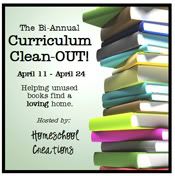 The 2010 Curriculum Cleanout is going on now–If you haven't stopped by, go check it out! I was looking through our stuff to see what I was willing to part with–because I have only been homeschooling a couple of years, I don't have too much. BUT, I do have a couple of things!
Another Math! (Apparently I'm not covetous of my Math Curriculum)
I liked all of these, but my kids are done with them. If you want to enter, just leave me a comment saying which item or items you are interested in!
For additional entries: