Archives For Homeschooling In High School
As Summer slowly ends and we gear up into Fall, I try to organize all my homeschooling stuff.
This year, I especially want to highlight a wonderful homeschool resource:

Yes, I have a special interest in this site as I am a columnist for this site!
My column is Treasuring Your Teens, and I write about this because my house is full of teenagers!
But, The WHOLE site is an amazing resource.
And, while I expected a lot from the site as I know many of the writers, I still honestly find myself impressed by how much content and wisdom is available on this site.
You will find columns covering homeschool methods, homeschooling encouragement, homeschool how-to's, just to mention a few.
Follow Homeschool Mosaics for discussions on parenting, talking about child development, teaching gifted, special needs, recipes, bible study for little children, genealogy, discussions about transcripts, heading to college and Treasuring Your Teens.
Head over and take a look! Here are some of my old columns. I have a column the 21st of each month.
Treasuring Your Teens:
http://homeschoolmosaics.com/category/our-columns/treasuring-your-teens/
http://homeschoolmosaics.com/getting-a-drivers-license/
http://homeschoolmosaics.com/planning-for-high-school/
http://homeschoolmosaics.com/the-rough-roads/
http://homeschoolmosaics.com/establishing-foundations-with-your-teen/
http://homeschoolmosaics.com/an-introduction-to-treasuring-your-teens/
No teens at your house? No worries. There are articles to support every stage of homeschooling!
Follow Homeschool Mosaics on Facebook
Follow Homeschool Mosaics on Twitter

 When I first began homeschooling, one of the main things I knew was that my son needed hands-on learning activities. He is very much a kinesthetic  learner, and really wants to experience learning by doing
This is not my main learning style, and I was at a loss as to how to do hands-on learning things! I wish I had known about Pitsco Education back then. It would have saved us all a lot of grief. Rather than sit with written work, Nick could have done a lot more projects.
Basically Pitsco offers all kinds of items that you can use to create a wide range of hands-on learning opportunities to suit your curriculum needs. For example, we reviewed the Trebuchet & Catapult Pack. Many of the project kits are so affordable, compared to what I would have expected.  (The cost for this set is $21.95 and it includes a Trebuchet Kit, Catapult Kit, Mass Plates, and Seige Machines book).
For this, I let Nick take the lead. Watch the video to hear what he thought:
They had so much fun and Nick reviewed quite a lot, while Em learned all about how these machines work.
We could have used these in conjunction with our Mystery of History, or Math…or Science curriculums this year. Because Nick was excited when we got this, he went ahead and built it…for a fun homeschool day. This was great in itself and we ended up having loads of impromptu lessons in gravity and the Renaissance.
I really recommend browsing through Pitsco Education's homeschool department. They have kits in such a variety of hands on stuff–science, technology, engineering, and mathematics (STEM). The packs, such as Robotic Packs include pretty much everything you need to complete a project. (You may need some glue and common tools)
Nick really handled everything about building these. And he loved every minute of it. I should have found this company a LONG time ago!
I usually wouldn't recommend curriculum for Christmas gifts…but this is an exception!
See what my crewmates have to say about PITSCO Education

I received Pitsco Education's Trebuchet & Catapult Pack through the TOS Crew for review purposes. I have given my honest opinion.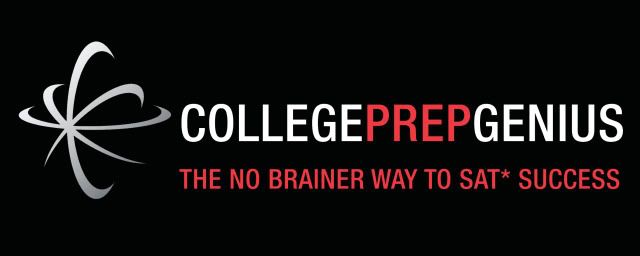 Do you feel your child is ready for college? Do you know all the ins and outs of PSAT, SAT and  test preparation and scholarships and loans?
Well, I do not, but we are learning as fast as we can as three of the children prepare to begin applying to schools.
On the whole, I feel a bit overwhelmed. I know there is a ton of information available for my teens who attend school, and online for my son who homeschools. Still, I am not the one at school, and the career office doesn't seem to help much. Here at home, I find myself spending a lot of time trying to decide which information is up to date and what is just marketing, etc.
When I saw a review come up for College Prep Genius I had high hopes that this was something that would be useful. When I began to review it, I had to drag my son to the laptop to watch with me. We watched the first lesson together, and within the first lesson, I noticed he began to pay attention. For real. The author of the course, Jean Burk, apparently has experience with her own kids, getting them into college and getting good scholarships. Her enthusiasm comes through loud and clear. She is a born coach, I think.
I think this course does reach high schoolers and is worth taking a look at. Nick did a video below:

After the first lesson my son had taken an online SAT and set up a college prep binder, made sure he was signed up for college board emails…and maybe more he didn't tell me.  Something clicked for him.
The prices for this do vary depending on which portions you purchase. Currently, there is a 25% off special deal on the DVD set package. $99.
You can find College Prep Genius online. Take a look, there is much information on there.
See what my crewmates have to say about College Prep Genius

I received the College Prep Genius through the TOS Crew for review purposes. I have given my honest opinion.
I recently received Excellence in Literature: English 1: Introduction to Literature with the Honors option, from Everyday Education to review.
The author, Janice Campbell, has created many resources to help those homeschooling through high School.
Some of her other books include Get a Jump Start on College!, Transcripts Made Easy, and the rest of the Excellence in Literature series. I mention Campbell right from the start, as I want to share that she has so much experience in non-traditional education, having homeschooled her four sons from kindergarten into college!
Since the 80's she has been sharing her thoughts and resources. I encourage you to visit her blog at www.Janice-Campbell.com or her website at www.Everyday-Education.com for articles, resources, and a free e-zine. (I signed up for the e-zine when I got my e-book, and I look forward to this in my inbox.)

Ok, so what about Excellence in Literature (EIL)?
Well, EIL is a college preparatory course, geared for students from 8th thru 12th grades. Normally, this would be a good first year English high school course, but can be used throughout your high school years to help "shore up" your student as far as knowing great literature and being able to write essays and practice literary analysis.
The course has nine overall units, and each is designed to last about a month. An honors track is included, for a student wanting the challenge, or to CLEP…or just for an older student.
Here is what my high school student thinks of EIL:
"It is self guided, and I like that. There are a lot of directions at the beginning and that helps to know what people want from you. The course has a lot of good books. Most of the books in here, I have been meaning to read. Especially the books by Verne and Twain. Really, the books are what I consider fun books and I'd read over and over anyway. I like this.


The units give lots of background information on the authors and books, like when they lived and what type of stories they wrote. It gives you lots of links to extra resources on the author/book, and different things to read about when they lived.

And, I like how when there is a movie for one of the books, it lists that as well, and adds it into the curriculum.

The actual work has you write an essay on the book and some have you answer a question about the book. You do get formats and examples of everything you will have to write (like essays). They have pages of that and links.

There is an honor track for CLEP. This is basically extra work for more practice, with additional reading. There is also a schedule for each unit. That is pretty cool. I like it so far. I also do IEW and I can use these together."
Unit 1 Short Stories by:
Sarah Orne Jewett: A White Heron, Edgar Allen Poe: The Purloined Letter, Guy de Maupassant: The Diamond Necklace, O. Henry: The Ransom of Red Chief ,Eudora Welty: A Worn Path, James Thurber: The Secret Life of Walter Mitty
Unit 2
Around the World in Eighty Days by Jules Verne
Honors: 20,000 Leagues Under the Sea by Jules Verne
Unit 3
A Connecticut Yankee in King Arthur's Court by Mark Twain
Honors: The Prince and the Pauper by Mark Twain
Unit 4
Jane Eyre by Charlotte Brontë
Honors: Shirley or Villette by Charlotte Brontë
Unit 5
Pygmalion by George Bernard Shaw
Honors: Murder in the Cathedral by T.S. Eliot
Unit 6
Treasure Island by Robert Louis Stevenson
Honors: Kidnapped by Robert Louis Stevenson
Unit 7
Animal Farm by George Orwell
Honors: 1984 by George Orwell
Unit 8
The Tempest by William Shakespeare
Honors: A Midsummer Night's Dream by William Shakespeare
Unit 9
Gulliver's Travels by Jonathan Swift
Honors: The Pilgrim's Progress by John Bunyan
The ebook version retails at $27, with instant download. You can also purchase the print version for $29 + shipping. I printed out the ebook, and that worked fine, but honestly, I'd rather have the print version, myself.
If you have several students in your homeschool, the ebook would be nice as you can download copies for yourself and your students, where online the links are all clickable.
For more info, see the EIL FAQ page.
See what my crewmates have to say about Excellence In Literature!

I received the ebook version of Excellence in Literature: English 1: Introduction to Literature with the Honors option through the TOS Crew for review purposes. I have given my honest opinion.
"This course was created as an elective for high school students interested in pursuing a career in business and for students interested in taking the CLEP Principles of Marketing Exam."
I will add that this course is a nice addition for any student as advertising and social marketing are so prevalent in our society. Are you teaching a budding entrepreneur? Social Media Genius? These days, no matter what career you choose, this college level marketing class would be an asset.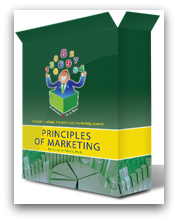 The authors participating in Professor In a Box are are first and foremost, teachers. And, they have figured out how to be the cool teachers, by making the learning environment very efficient. No messing around. This particular course is taught by Julie Pirsch Ph.D, a Marketing Professor at Villanova University.
First off, you will not need any additional resources. No textbook. The included DVD and online links are all you need (I like this).
There are five main components to how one uses the course:
Watch DVD: 28 individual lessons, 19 Chapters. The lessons are in a Flash lecture style, with powerpoint slides and audio. Dr. Pirsch has a pleasant voice, which is helpful. Give yourself about 30 minutes for each lesson.
Study Key Concepts and terms. Review
Investigate online web links–these are found through your DVD and link to items like documentaries, websites, journals, branding and case studies, etc. Fascinating stuff.
Take chapter quizzes
Take exams: three main exams. Quizzes and exams are online and automatically graded, but you can also print them out if you like.
Professor In a Box outlines options to use this for an entire year, a semester, or summer schedule. Everything the teacher or student would need is provided, such as lesson plans, grading information and schedules.
There are no prerequisites. This course is similar to a standard college 101 marketing course, yet the language is clear for a young high school student and using the Flash lecture slides lets you proceed at your own pace. Honestly, I found it very interesting so far and I want to finish it!
I will have to come back and let everyone know if Nick passes the CLEP test for this one. He is a Junior now and I know the cost of this curriculum is less than the 101 college course credits at even our local community college. He likes the independence of using the DVD/lecture format.
Originally, I scared him by showing him the lesson plan titles and such. But, each lesson is not difficult to understand, and Nick enjoyed recognizing companies that were used in marketing examples.
Take a look at Chapter One. You can watch the entire first lesson. I like how seamlessly the DVD flows. I really appreciate non-traditional ways of learning.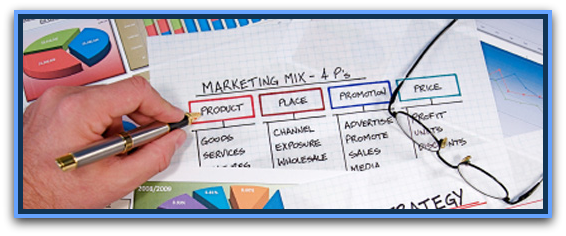 I recommend this for the older high school student, college student, or someone like me, who is just interested in marketing.
The course retails for $119.99 with free shipping and is available in PC or Mac format. There is even a money back guarantee.
Go take a look for yourself at: http://professorinabox.com/ and, you can also find them on facebook.
See what my crewmates have to say about Professor In a Box, Principles of Marketing.

I received  Principles of Marketing through the TOS Crew for review purposes. I have given my honest opinion.
Zeezok's new line of Z-Guides to the Movies is such a clever way to use multimedia for learning! I recently got to review these and knew Nick would especially enjoy this project if he could choose a movie he wanted. So, I asked him to take a look at what was available (they have many options). He chose Flyboys ZGuide to the Movies.
Each zguide contains a topic overview, movie synopsis, and ten learning activities for an in-depth study of the film. I was thrilled by the quality of the discussion questions and activities. The activities for Flyboys struck me as very well researched and thought out.
While I was thinking this would just be a fun little aside, in actuality, Nick studied quite a bit and ended up discussing some serious questions on morality and doing a big essay. It was fun to really go in-depth with a movie, look at the movie critically, while eating popcorn on the couch.
Among other things the zguides include a five day lesson plan for the teacher—which was nice to have–although we took longer as I decided this was a good jumping off point for a longer study.
Since Nick did this study, I asked his opinion.
Nick's opinion:  "When I got this project I was excited because I got to watch a movie during school! The movie that my Z-guide went to was FLYBOYS directed by Tony Bell. The cast included James Franco, and Jean Reno.

It was a good movie.  The Z-guide made the movie better because it made me pay more attention to the details of the movie.

The Z-guide has 10 activities:

Movie review Questions, the questions are just things that happen in the film like what color was James Franco's plane.
More about the Lafayette Escadrille, more questions
For activity 3 I got to design my own insignia that I would put on my plane if I was a pilot.
More about the planes they flew.
Write an essay (not my favorite).
A crossword
Draw a recruitment poster.
Questions about a dirigible as a weapon of war.
Worldview. Here, we had questions asking us to think about people's beliefs and behaviors in the movie. For one, in this movie I learned about racial prejudice during WW1
And the filmmaker's art part talks about the actual movie making part of the movie.

There are also questions for your family to discuss. I enjoyed this Guide it taught me more about World War 1. It also taught me more about World War 1 pilots, because for some of the questions you have to look it up on the internet. When I did look something up there were more things related to what I looked up causing me to read about the planes and some of the real pilots of WW 1. For example, I ended up looking at the types of gasmasks there were in WW1, and why pilots wore a white scarf.

Overall I really enjoyed this and I learned a lot of history while I had fun."
You can purchase this ZGuide ebook for $12.99 on CD or with instant download. This eBook contains a printable pdf file of the complete study guide. Each guide is written to be used with a date specific production of the movie and that information is listed on the cover of the guide. You can purchase the movies from Zeezok or find at your library and all of them are available thru Netflix.
See the Zeezok website to see more ZGuides to the Movies, and  find them on facebook.
See what my crewmates have to say about Zeezok
I received The Zeezok ZGuide to Flyboys through the TOS Crew for review purposes. I have given my honest opinion.
If you want to help your kids study for the SAT or ACT, or maybe you just want to improve your vocabulary, some of these new book and digital
products might be perfect for you. I received a book from VocabAhead with over 300 pages of common SAT and ACT vocab words–the book uses the form of cartoons to tell a story, explaining and reinforcing the definition for each word. I think everyone would agree that kids like this type of learning approach. This way they have an amusing visual that helps them more easily remember a new word.
Now, while using cartoons may not be brand new, the people over at VocabAhead are definitely thinking ahead…they have also made these cartoons available as videos and MP3s. You can listen to the cartoons narrated through your mp3 player–or even get iPod, iPhone and iPad apps which play the cartoons.
My book version of VocabAhead includes a code I can use to go to the website and download mp3 videos of the words in my book. The book also includes a review quiz after each set of ten words, so Nick is just adding a tiny bit of vocab into each day, and doing a review quiz weekly. I think this is a no fail way to add a bit of vocab. One thing I didn't like is that the written book does not show the pronunciation for each word–but, the videos do sound each one out.
You can see a bit of VocabAhead here:
As far as watching the videos, I'm not so into watching my own mp3s–I like using the App, and I like playing around on the VocabAhead website. Check out the SAT visual flash cards in their study room, watch videos or signup for an email word of the day.
You can purchase the VocabAhead book with the 300 Most Common SAT words for $12.95, here.
See what my crewmates have to say about VocabAhead.
I received VocabAhead SAT Vocabulary through the TOS Crew for review purposes. I have given my honest opinion.