"This course was created as an elective for high school students interested in pursuing a career in business and for students interested in taking the CLEP Principles of Marketing Exam."
I will add that this course is a nice addition for any student as advertising and social marketing are so prevalent in our society. Are you teaching a budding entrepreneur? Social Media Genius? These days, no matter what career you choose, this college level marketing class would be an asset.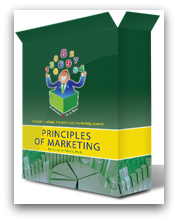 The authors participating in Professor In a Box are are first and foremost, teachers. And, they have figured out how to be the cool teachers, by making the learning environment very efficient. No messing around. This particular course is taught by Julie Pirsch Ph.D, a Marketing Professor at Villanova University.
First off, you will not need any additional resources. No textbook. The included DVD and online links are all you need (I like this).
There are five main components to how one uses the course:
Watch DVD: 28 individual lessons, 19 Chapters. The lessons are in a Flash lecture style, with powerpoint slides and audio. Dr. Pirsch has a pleasant voice, which is helpful. Give yourself about 30 minutes for each lesson.
Study Key Concepts and terms. Review
Investigate online web links–these are found through your DVD and link to items like documentaries, websites, journals, branding and case studies, etc. Fascinating stuff.
Take chapter quizzes
Take exams: three main exams. Quizzes and exams are online and automatically graded, but you can also print them out if you like.
Professor In a Box outlines options to use this for an entire year, a semester, or summer schedule. Everything the teacher or student would need is provided, such as lesson plans, grading information and schedules.
There are no prerequisites. This course is similar to a standard college 101 marketing course, yet the language is clear for a young high school student and using the Flash lecture slides lets you proceed at your own pace. Honestly, I found it very interesting so far and I want to finish it!
I will have to come back and let everyone know if Nick passes the CLEP test for this one. He is a Junior now and I know the cost of this curriculum is less than the 101 college course credits at even our local community college. He likes the independence of using the DVD/lecture format.
Originally, I scared him by showing him the lesson plan titles and such. But, each lesson is not difficult to understand, and Nick enjoyed recognizing companies that were used in marketing examples.
Take a look at Chapter One. You can watch the entire first lesson. I like how seamlessly the DVD flows. I really appreciate non-traditional ways of learning.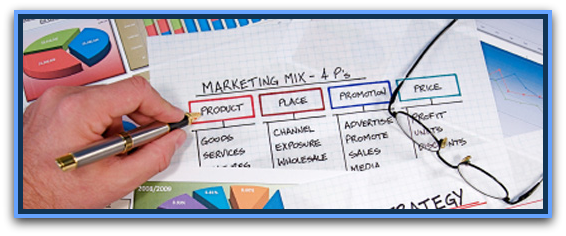 I recommend this for the older high school student, college student, or someone like me, who is just interested in marketing.
The course retails for $119.99 with free shipping and is available in PC or Mac format. There is even a money back guarantee.
Go take a look for yourself at: http://professorinabox.com/ and, you can also find them on facebook.
See what my crewmates have to say about Professor In a Box, Principles of Marketing.

I received  Principles of Marketing through the TOS Crew for review purposes. I have given my honest opinion.