I first heard of Before Five in a Row (BFIAR) on a wonderful homeschooling site, Delightful Learning. Just by association, I trusted that this must be a thoughtful, engaging way to teach little ones. At the time, though, my youngest was a little older, and I had moved towards using a few classical curricula, and I never fully explored Before Five in a Row.

But, loved the idea of BFIAR, so I logged it in mentally and planned to share about it with my family and friends with little ones! Later, I realized that the original Five In A Row (FIAR), is beloved by homeschoolers. With the FIAR approach, students and teachers read a particular book aloud for five days in a row and complete specific activities together after each reading.
To some extent, BFAIR is what –in my estimation—the perfect mommy does as she takes time to explore with her little one, and teach in bits and pieces, through repetition and snuggly experiences!
Because we all know that learning through play and Mama's attention are the building blocks of oh so much more.
When I heard that the TOS Crew might get a chance to review BFIAR, I asked for this one because I was excited to send it to my Mom and sister. My younger sister has a preschooler, a very busy preschooler, in fact, and while they do not homeschool, I know they spend lots of time reading to him and teaching him, and I thought it would be fun for them to have a guide of sorts to give them additional ideas for this busy little one. Frankly, my Mom thinks along similar lines as Jane Claire Lambert, the author of BFIAR.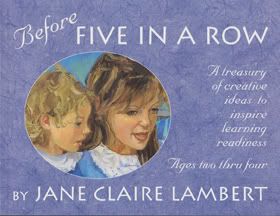 How so? Well, my Mom was a teacher and worked with theme units way before those were popular. I remember when she worked on a unit for Antarctica and the kids made a cake of Antarctica and got to do an online exploration. Nowadays, that may be a bit more common, but boy were the kids happy back then! The kids worked hard, because the lessons were enjoyable and they really liked the teacher and wanted her to be proud of them. Without even realizing it, the kids were learning so much.
I enjoyed reading that Lambert also came from a family of teachers, and her daughter has followed in her footsteps. I would have guessed, they have the gift of inspiring students.
BFIAR is geared towards preschoolers, ages two to four, so the activities are designed to work well with little ones, while developing tons of pre-learning skills.
The first section of the book has the recommended book readings, each with suggestions for ways to explore the book for the five days. You will find all sorts of ideas and it is easy to choose a few and really finish something, together, with your preschooler!
Lambert includes ideas for everything from Bible to Science to outdoor escapades and in 6 pages or so for each suggested picture book. She does this for 24 titles in BFIAR. This is so wonderful, especially for those who question their own creativity! (Yes, I mean me) I also like that you can choose from many ideas—BUT you still have a solid kind of unit lesson plan to go by. I like that, so I feel like I really finished something.
After these titles, Lambert adds a section on "Parents Treasury of Creative Ideas for Learning Readiness." In this portion of the book, you'll find activities and ideas to encourage reading readiness, large and small motor skills, activities for the kitchen and bathtime.
I really, really recommend getting this book if you have a preschooler, or even spend any time with a preschooler. You certainly do not need to be a homeschooler to enjoy using this book, although using this book might just turn you into a homeschooler! Just fantastic.
Read all about BFIAR on the BFIAR website. Go ahead and purchase the book at $35, through Rainbow Resource.
Visit Homeschool Creations for some extra fun ideas, printables, and even a link up for bloggers using BFIAR with their children!
See what my crewmates have to say about Before Five In A Row.

I received the Before Five in a Row book through the TOS Crew for review purposes. I have given my honest opinion.