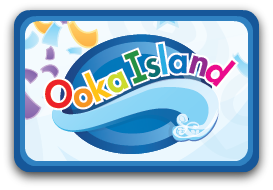 Ooka Island Adventure is a 3D hero-mission literacy program, designed to teach young children, ages 3-7 how to read.
Actually, so far I do not have too much to say about Ooka Island, as I cannot get past the opening play button. From what I can see, I think the site has a lot of potential, great, colorful kid friendly graphics and a fun learn to read approach, with lots of robot characters, songs and online books.
I am waiting for my magical upgrade.  However, I am going to go ahead and share this site with you, as they have a promo code for their launch, you can take a look and see what you think.

See what my crewmates have to say about Ooka Island.

I received a download of Ooka Island through the TOS Crew for review purposes. I have given my honest opinion.