As a homeschool Mom, I really appreciate creative people. It is so easy to get into a rut just using textbooks and such all the time. Especially, if you are not super creative. Which is what I am. Not a fun maker. I know this because my Mom, a veteran teacher and my husband somehow always make schooling fun. (In contrast to me). I am the meat and potatoes person I guess!
Haha, but kids DO need to have both. The creative, fun lessons catch their imaginations and give them motivation to do the required learning, which may be repetitive.
Thankfully, I have found many creative curricula for my kids since I am their main teacher. I have some old favorites and every day seems to bring some new ideas. I recently got card game that teaches fractions, called Fractazmic.
It's a sneaky, fun way to reinforce math!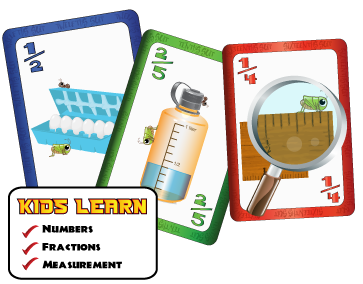 My daughter is actually too young for this one. I tried to mess around with the rules, but she is just not ready.  I did play it with my husband and son though, and I think it is a great concept and one that will come in handy when Em reaches a bit more readiness to do fractions, probably this Spring.
If the deck had simpler fractions (didn't include like 12ths) I think we could do it. But, she also gets frustrated easily, so I want to be cautious to not push her. My serious child!
For children ages, say 7 to 14, I think this is a terrific way to get some practice with fractions, and in numbers and measurement.
The cards are playful and cute, with little ant character graphics that my kids thought were funny.
What's included in Decks:
60 Math Learning Cards
Each card clearly numbered
Each card clearly labeled with the fraction and reinforcing graphic.
This is a 2-4 person game. As always, I recommend playing with your child—that always makes them so happy!
Go look at the site with the fraction game online. You can even win a free set of the cards!
Now, this company makes several really fun card games for students. Take a look at what they have available to spice up your Spring Semester schedule!
Fractazmic retails for 6.95. Go check these out—whether you are a homeschooler or just want to play.
See what my crewmates have to say about I See Cards (the makers of Fractazmic)

I received Fractazmic through the TOS Crew for review purposes. I have given my honest opinion.