This Summer has been full of marvelous DOWN time. Aside from cleaning out our school closet and organizing all the paperwork, I have done no official school. Truly, I need the break.
Still, the learning continues. It is funny to see the kids accidentally learning. I find Nick engrossed in Popular Science magazines and Emma pulling out her All About Spelling Board and Science coloring books.  I guess Summer is our delight directed learning time!
With these things in my mind, I jumped at the chance to review a new reading resource from All About Learning Press. This is a full-color supplemental game book, Adventures In Reading with the ZigZag Zebra.
Emma first met Ziggy as we used All About Reading (AAR) and All About Spelling (AAS) when she was younger. I continue to use these programs and she really enjoys them. I get no fussing when it is time to do spelling, and the child adores reading.
Anyway, I think my daughter may enjoy using manipulatives much more than I originally thought, as evidenced by how much she likes using the AAS. She loves the magnets and the cards, and the stickers and reward sheets are an extra nice touch.
When using portions of AAR, I feel the artwork is fantastic. I like the hardback books and the obvious dedication to quality. And, on top of all that, the underlying approach to teaching really works.
Can you tell I really like this curriculum?
Well, like I said, when I saw that the company had released a new fun product to go with AAR, I figured it would be good.
And I was not disappointed!
The creativity of some people just amazes me. I got a bright and colorful book of file folder games. There are nine games altogether. Each of the games reinforces skills taught in Level 1 of All About Reading. The games help kids:
"practice important concepts like blending, counting syllables, and recognizing vowels and consonants, and they will have ample opportunity to review the Phonogram and Word Cards from the All About Reading program."
My daughter and I had a blast cutting out and "creating" our games. The directions are so simple and detailed, I appreciate that. The games are so colorful and truly fun.
The more I teach the more I value the things that actually make learning fun and exciting, not just one more chore.
While each of these games goes with a particular lesson, you can also play them just for review and for pleasure. In fact, my daughter is seven, and I was really worried she would be bored by the games because she already does read and is pretty advanced.
But, games are great for kids and these were perfect for her. Because of her age, she was able to really participate in cutting and pasting and creating the games and she thinks Ziggy is "awesome", so overall this was just a good experience for her.
And, she is learning all through the Summer of her own free will!
What a great way to make learning fun for your child and yourself. I am already in line for the next one!
Some of the things I really like about Adventures In Reading with the ZigZag Zebra:
The price is great for nine (9) games, with each game having a real purpose.
Each game reinforces learning. All About Learning Press shares exactly what the kids are learning with each game. (You can see that here)
The quality of the games, the paper, the artwork is excellent
The pages are perforated for easy removal
The directions are super clear, and all pieces are included
 The games clean up and store well: you can store the instructions and game pieces in the front pocket provided in the book.
The games even have an overall theme of Ziggy traveling the world: you could tie this in with your geography.
The mascot, Ziggy, is adorable. My daughter loves this one.
Overall, I think this is a winner. For $19.99 you can add some fun into your Fall schedule with very little work. (in fact, your older kids can easily do any setup)
I also just have to share an old video of when Emma first got a AAR reader:
If you have not tried All About Spelling and All About Reading, I recommend those curriculums so much. They have just worked so well for us. I have to say, this is a subject I put very little time into with great results. Click the link below to find out more: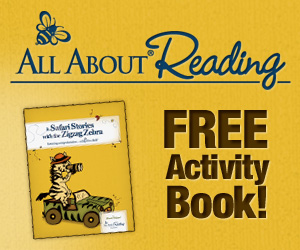 *I did receive the file folder games for free for my review. I am also an affiliate for All About Learning Press, so if you make a purchase from my links, I will get a bit of money. By all means, please do use my links if you purchase! But seriously, I do like this company very much and am proud to share about it.
**This book is sold separately from other materials in the All About Reading program.